PRIMARY COLOURS


The first performance was carried out with support of the Austrian cultural centre

The project develops ideas of synthesis of arts, constructs parallels in the image, dance, music.
Avant guarde in painting / avant guarde in music / avant guarde in dance


Yellow sound: Kandinsky - Shnitke (premiere - 02.2002)
Shonberg - Kandinsky
Malevich, Tatlin, Ale Lisickij, Shagal
Stokhausen (Hymns), Prokofiev, Mosolov, Deshevov etc.

..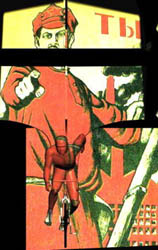 ...........